The Camden - Amboy Railroad
And the story of the John Bull
The first railroad in New Jersey and the first successfully commercial railroad in the country ran across central New Jersey, from Camden to Perth Amboy.
Learn more about this railroad and the train that ran on it:


Click to see the PowerPoint presentation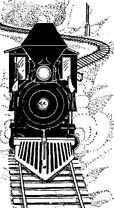 See a picture of the John Bull
The John Bull on tour
The story of the John Bull replica
Consider reading more on this topic:
The John Bull: 150 Years a Locomotive. John H. White, Jr. Smithsonian Institution Press, 1981.
back to Lakeview main page

Large train, Let the show begin, and under construction graphics from http://www.free-clipart.net/
Small train Graphic from http://www.aaaclipart.com/
---
Thanks for visiting! Do you have any questions? Comments?
LakeviewEdu@yahoo.com
Created by Lynn Lakner in conjunction with the Jamesburg Historical Association
Page created April 25, 2005. Page last updated on April 25, 2005 .
All rights reserved. Disclaimer