Early Transportation
Here will be the educational components for a education program on early transportation.
PRE-VISIT HAND-OUT
LESSON OUTLINE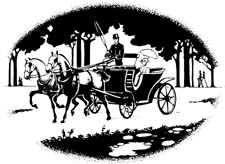 1) In the 1600's this area was forest wilderness with Indian trails- people mainly walked, small carts/sleighs some areas
2) Great road from Amboy road Bordentown was made in 1694. The road was wide enough for wagons.
3) By 1740 many stages were in operation. For stages to operate, inns and taverns had to be available to refresh travelers and horses. Taverns became the social and political centers of town. The Cranbury Inn originated as a stagecoach stop.
4) Along with transporting people, the colonies exported goods to Europe. Corn, flour, flax, lumber and cedar shingles were early trade goods. Later manufacturing began in linen cloth, glass and iron.
5) 1830's- Camden &Amboy Railroad and the Raritan Canal.
Mr. Buckelew buys the house and mill at Lakeview.
6) 1840's Dent Miller drove the Buckelew stage from Freehold- Jamesburg, later superseded by the Freehold & Jamesburg railroad in 1851.
7) 1861 Dent Miller drove President Elect Lincoln to the Statehouse to give his speeches to the NJ State Senate and General Assembly. Click here to learn more about the Lincoln Coach.
MATERIALS IN LAKEVIEW TO FOCUS ON
The Lincoln Coach

The Railroad tracks out front, from the Camden-Amboy track

The Dingfeld Blacksmith shop
POST-VISIT QUESTION SHEET
TEACHER RESOURCES ON THIS TOPIC
http://jamesburg.net/jha/history2.html
back to Lakeview main page

Carriage and under construction graphics from http://www.free-clipart.net/
Train Graphic from http://www.aaaclipart.com/
---
Thanks for visiting! Do you have any questions? Comments?
LakeviewEdu@yahoo.com
Created by Lynn Lakner in conjunction with the Jamesburg Historical Association
Page created April 25, 2005. Page last updated on April 26, 2005 .
All rights reserved. Disclaimer